OUR RESEARCH:
The overarching theme of the work in my group is structure/function relationships at the surfaces and interfaces of materials. Over the past several years, these studies have focused on nanoscale materials and devices for molecular/organic electronics, quantum dot and metal nanoparticle assemblies for optoelectronics and chemical sensing and the tribological properties of nanoscale contacts. Much of this work involves establishing a fundamental (molecular level) understanding of the underlying chemistry and physics of the systems in question to afford rational approaches for improving current technologies and developing new ones. We utilize both top-down and bottom-up fabrication approaches, combined with self-organizing molecular systems to control and manipulate materials on the nanoscale.


In much of our work, we take advantage of self-assembly for the design of robust structures, which can be manipulated and controlled through the engineering of specific inter-molecular forces and chemical interactions with surfaces. This includes designing confined molecular assemblies for molecular electronics, organic/semiconductor heterojunctions for organic electronics, nanopatterned quantum dot arrays for chemical sensing, as controlling friction at the molecular level to enable micromachine designs. The range of projects provide the students with a strong multidisciplinary background affording opportunities for training in chemistry, physical and analytical methods, nanotechnology, and materials science. Students will also be exposed to a diverse set of research environments through collaborative interactions with several national laboratory facilities.
FEATURED ARTICLES:
B.W. Ewers and J.D. Batteas, "Molecular Dynamics Simulations of Alkylsilane Monolayers on Silica Nanoasperities: Impact of Surface Curvature on Monolayer Structure and Pathways for Energy Dissipation in Tribological Contacts," J. Phys. Chem. C 116 (2012), 25165-25177. FULL ARTICLE Invited Feature Article--Cover Article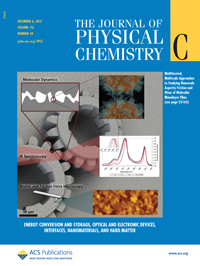 X. Hong, Z. Luo, and JD. Batteas, "Enhanced Visible Light Absorption and Dopant Distribution of I- TiO2 Nanoparticles Synthesized by a New Facile Two-Step Hydrothermal Method," Journal Solid State Chemistry 184(2011) 2244-2249. FULL ARTICLE
Jurow, M., Schuckman, A. E., Batteas, J. D., Drain, C. M. "Porphyrins as molecular electronic components of functional devices." Coord. Chem. Rev., 254 (2010) 2297-2310. FULL ARTICLE
Y.-H. Chan, J. Chen, Q.-S. Liu, S.E. Wark, D.-H. Son and J.D. Batteas, "Ultrasensitive Copper(II) Detection Using Plasmon-Enhanced and Photo-Brightened Luminescence of CdSe Quantum Dots," Anal. Chem. 82 (2010) 3671-3678. FULL ARTICLE
CURRENT EVENTS:
Congratulations to Brad Ewers on winning a best poster award in the COLL Division at the ACS meeting in New Orleans.
Texas A&M has a Student Chapter of NOBCChE, the National Organization for the Professional Advancement of Black Chemists and Chemical Engineers--check out the C&EN News article here:
http://cen.acs.org/articles/90/i45/LOCAL-CHAPTERS.html

Check us out at the Chemistry Open House on October 27!
http://www.science.tamu.edu/articles/9677
Read about Nanopumpkins in Chemical and Engineering News!
http://cen.acs.org/articles/90/i43/Carving-Nanopumpkins-Slicing-Fingers-Cutting.html
Congratulations to Chi-Yuan Chang who defended his thesis and has accepted a position with Intel in Portland, Oregon.
Congratulations to Dr. Yang Hsiang Chan (PhD 2010) who has accepted a faculty position at National Sun Yat-Sen University in Taiwan.
Congratulations to Agustin Diaz for his excellent work on drug delivery using nanoplatlets for cancer treatments. See the highlight on this in the TAMU Times (http://www.science.tamu.edu/articles/888). Article in Chem. Commun. 48 (2012)1754-1756.
James Batteas has been admitted as a Fellow of The Royal Society of Chemistry.
James Batteas has accepted a position as Associate Editor of RSC Advances.
Link to Past Events