D. J. Darensbourg - Research Laboratories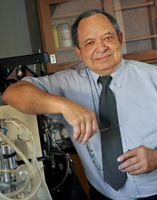 Prof. Donald J. Darensbourg
djdarens@mail.chem.tamu.edu
979.845.2983
Education:
B.S. in Chemistry: California State University at Los Angeles (June, 1964).
Ph.D. in Inorganic Chemistry: University of Illinois (June, 1968).
Thesis title: Infrared Intensities in Substituted Metal Carbonyls
under the direction of Professor Theodore L. Brown.
Professional Background:
Distinguished Professor of Chemistry, Texas A&M University
(2010 - present)
Professor of Chemistry, Texas A&M University
(July, 1982 - 2010)
Assistant-Full Professor of Chemistry, Tulane University,
(January 1973 to July, 1982)
Assistant Professor of Chemistry, State University of New York at Buffalo
(September, 1969 to January, 1973)
Research Chemist (Infrared Spectra of Absorbed Molecules with Dr. R. P. Eischens)
Texaco Research Center, Beacon, New York
(September, 1968 to June, 1969)
Teaching/Research Assistant in the Department of Chemistry at the University of Illinois
(June, 1964 to June 1968), NIH Fellowship recipient (1967)
Professional Appointments:
Member, Editorial Advisory Board of Journal of the American Chemical Society (2019-Present)
Member, Editorial Advisory Board of Organometallics (2006-2009)
Member, Editorial Advisory Board of Advances in Inorganic Chemistry (2003-present)
Member, International Scientific Committee International Conference on Carbon Dioxide Utilization (1998-present)
Member, Editorial Advisory Board of Inorganic Chemistry (1994-1997 and 2001-2003)
Treasurer, American Chemical Society (Inorganic Division) (1990-1993)
Panelist, NSF Graduate Fellowship Selection (1984-1988)
Member, NSF Advisory Committee for Chemistry (1983-1986)
Oversight Review Team (Chemical Dynamics) (1983)
Chemical Sciences Review Committee Member, Ames Laboratory (USDOE) (1982-1984)
Awards:
American Academy of Arts & Sciences Fellow (2019)
ACS Inorganic Award for Undergraduate Researcher (2018) - Tucker Folsom (student) and DJD (preceptor)
American Chemical Society Fellow (2017)
Texas A&M University, College of Science Mentoring Award (2016)
George A. Abbott Lecturer (University of North Dakota, 2015)
Richard F. Heck Award/Lecture (University of Delaware, 2014)
John C. Bailar, Jr. Medalist (University of Illinois, 2013)
Hans B. Jonassen Lectureship (Tulane University, 2013)
American Chemical Society Award in Inorganic Chemistry (2010)
2010 ACS Inorganic Award Lecturer (Northwestern University)
Case Western Reserve Frontiers in Chemistry (2007)
Lloyd N. Ferguson Distinguished Lecturer (California State University, Los Angeles, 2006)
Texas A&M University, Faculty Award for Distinguished Research (1990)
Texas A&M University, Distinguished Teaching Award (1988)
Two NSF Creativity Extension Awards (1993 and 2009)
Principal Areas of Interest:
Organometallic/Inorganic Chemistry of transition/main group metals, homogeneous and heterogeneous catalysis(including polymerization and biphasic processes), and applications of infrared spectroscopy.
Recent Invited Lectures
John C. Bailar, Jr. Medalist Lecture Series, University of Illinois at Urbana-Champaign, Urbana, IL
Texas State University, San Marcos, TX
Brown University, Providence, RI
Eindhoven University of Technology, Eindhoven, The Netherlands
244th ACS National Meeting, Philadelphia, PA
NOBCChE Annual Seminar Series, University of Maryland, College Park, MD
TAMUQ Research and Industry: Fostering Synergy, Doha, Qatar
Hans B. Jonassen Lecture Series, Tulane University, New Orleans, LA
Georgia Institute of Technology, Atlanta, GA
242nd ACS National Meeting, Denver, CO
11th International Conference on Carbon Dioxide Utilization, Dijon, France
Mettler Toledo Polymer Information Sharing Symposium, College Station,TX
Industrial Partnership for Research in Interfacial and Materials Engineering (IPRIME) 2011 Annual Meeting, Minneapolis, MN
Dalian University of Technology, Dalian, China
Hebei University of Technology, Tianjin, China
2011 Material Research Society Spring Meeting, San Francisco, CA
New Mexico State University, Las Cruces, NM
Northwestern University, Evanston, IL
Rollins College, Winter Park, FL
Gordon Research Conference — Organometallic Chemistry, Newport, RI
14th Green Chemistry and Engineering Conference, Washington, DC
Institute of Bioengineering and Nanotechnology Seminar Series, Singapore
National Taiwan Normal University, Taipei, Taiwan
National Tsing Hua University, Hsinchu, Taiwan
Polymer Technology Center Consortium, Texas A&M University
239th ACS National Meeting, Invited Speaker, San Francisco, California
Inorganic/Bioinorganic Reaction Mechanisms (IRMG), Kloster Banz, Germany
Gordon Research Conference, Invited Speaker in Inorganic Reaction Mechanisms, Galveston, Texas
Eastman Chemical Company, Longview, Texas
Symposium in Sustainable Polymers, Georgia Institute of Technology
University of Oregon
Baylor University
QAFCO-TAMUQ Chemistry Conference, Doha, Qatar
French Federation for Chemical Sciences Symposium on Carbon Dioxide,Toulouse, France
235th ACS National Meeting, New Orleans, Louisiana
Case Western Reserve University, Frontiers in Chemistry Speaker, Cleveland, Ohio
Lyondell Symposium, Invited Speaker, Philadelphia, Pennsylvania
234th ACS National Meeting, Boston, Massachusetts
Gordon Research Conference, Invited Speaker in Inorganic, Newport, Rhode Island
QAFCO-TAMUQ Chemistry Conference 2007, Doha, Qatar
Tulane University
Vanderbilt University
College of Science Distinguished Multicultural Lecture Series, Purdue University
Lloyd N. Ferguson Distinguished Lecture, California State University, Los Angeles
University of Kentucky
8th International Conference on Carbon Dioxide Utilization, Oslo, Norway
University of Nevada-Reno
229th ACS National Meeting, San Diego, California